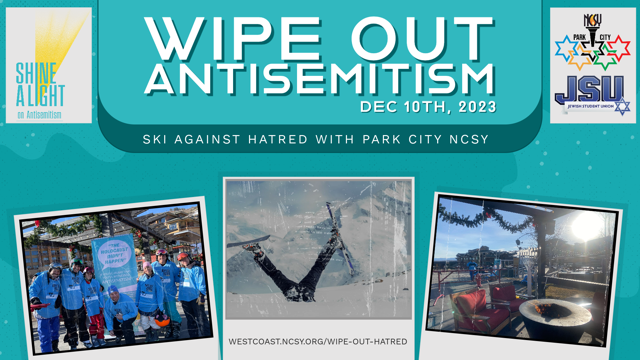 The Jewish Federations of North America have spearheaded a nationwide effort to SHINE A LIGHT on antisemitism this Chanukah. Our Park City event will empower skiers to advocate for the Jewish people by teaching others on the mountain about the rise in antisemitism, and what things are considered antisemitic.
Here's how it works. If you're thinking about skiing on January 8th, please sign up below. There's no cost to enter (you pay for your own skiing). We will provide you a jersey- we'll all be skiing with the same jersey, with messaging about anti semitism. Imagine how many skiers and boarders will see our messaging! Additionally, all of our skiers will be given educational material about the precipitous rise in antisemitism.
We'll be providing snacks and lunch, and other swag. This is open for all skiers, whether you're 5 or 55, Jewish, LDS and everything in between. If you want to help Jews in America avoid more hatred, you can help, simply by skiing with the logo!
Please use the form below to sign up. Exact details about where and when to meet will be shared via email.
For more information on the Park City event, please contact lockerd@ncsy.org.